40W LED hybrid street light

40W LED hybrid street light
---
40W LED hybrid street light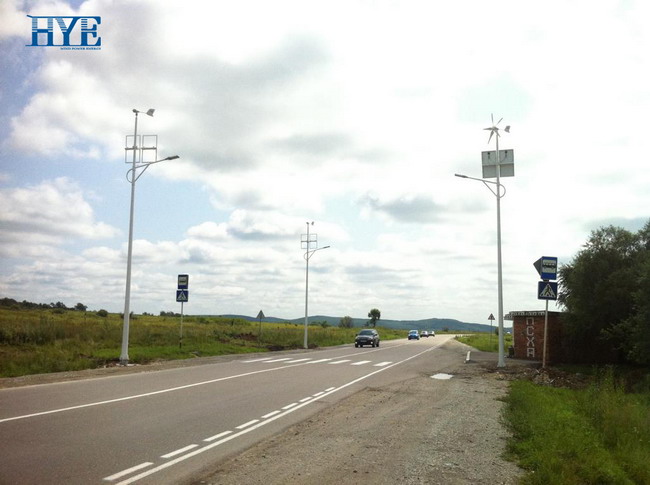 HY-SWL40A
Wind Solar Hybrid Street Light Solution
System Description:
● HYE Unicorn series hybrid street lighting system is an intelligent, small scale and off-grid LED street light system,
● Power system composed of a wind turbine and solar modules, AGM deep cycled batteries, controller to power one
● LED streetlight, this hybrid streetlight takes solar/wind as energy source and utilizes the energy for lights automatically during night by setting of timer or lighter sensor on the smart controller.
Unicorn Series - HY-SWL40A Wind Solar Hybrid Street Light include
● Wind Power: 400W rated power output - HY-400 Wind turbine, 12V
● Solar Power: 90W rated power output - 1pc 90W 12V polycrystalline solar panel
● Light source - ultra bright LED street light 40W
● Energy Storage - 1pc 150AH sealed maintenance free AGM gel deep cycled battery
● Light pole - 8m pole for wind turbine & solar panel installation, 6m lamp height, 30m/s wind resistance
Recommended Application
● Municipal Street, residential streets, country road, parking lots, landscape lighting, roundabouts, camp site, campus
● Applicable road type: two-way four-lane
● Road width max.: 12 meters, lamp distance: 30 meters
● Average Illumination: 10-15 LUX depends on road width and lamp distance design
● Lamp placement: single sided placement/double sided parallel or cross placement
System Diagram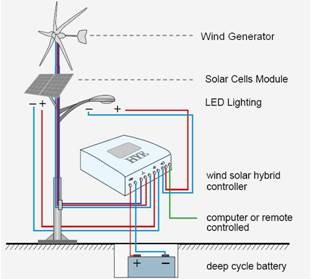 Typical Installation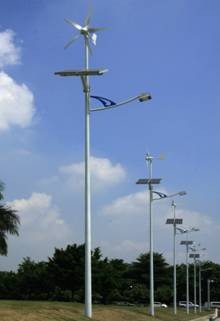 System Specification

Remarks:
1. Above standard solution designed base on effective sunshine 5 hours per day, and annual average wind speed 3-3.5m/s.
2. Above standard solution designed for battery backup for 3 consecutive rainy and cloudy days.
3. Above standard solution designed base for 10 lighting hours, Lighting hours can be customized base on specific requirement and project site solar radiation level.
4. Light pole and light source shape can be custom designed to fit better into landscape.
5. Optional split night lighting & Passive Infrared (PIR).
6. Above standard solutions for your reference only, for each specific project HYE will design the complete system according to project location solar resource condition and specific requirement about ground average LUX, illumination distribution, light color temperature etc. A complete system proposal will be provided by HYE with detailed data and graphic diagrams included.