Solar Street Lighting System
---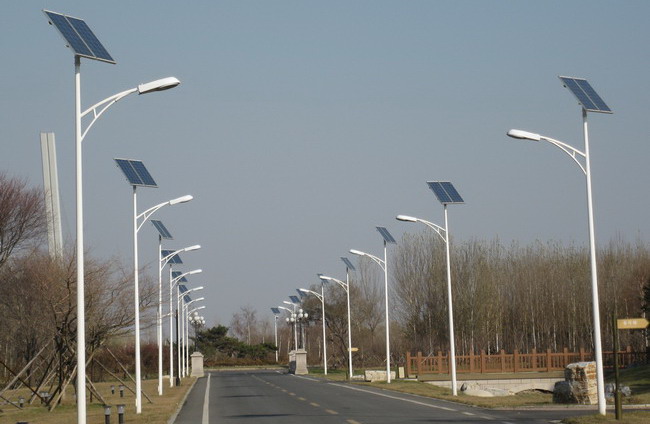 Solar street lights are fresh alternative to traditional street lamps such as LPS, HPS, or MH street lights. LED lighting provides a multitude of advantages over conventional incandescent light: LED solar street lights are environmental friendly, energy efficient, and cost-effective. This smart, 'green' option for outdoor LED lighting has emerged on the green scene due to the recent technological advancements of LED illumination.
The system is mainly composed of solar panel, light source, controller and battery. In daytime, when there is sunshine, the solar panel can convert the solar energy to electric power and store it in maintenance-free battery. At night or rainy or cloudy condition, the controller can control the lights automatically on when day off, auto-off when day break, and the battery shall supply the power for lighting.
Major Applications:
● Major Roadways
● Residential Streets
● Pedestrian Walkways
● Parking Lots
● Docks and Piers
● Remote and Rural Locations
Camp sites
Roundabouts
Camp sites
Beaches
Service station
landscape lighting
Special Features:
Low-cost installation – no trenching, no heavy cable, quick & easy installation anywhere
Ultra-low maintenance & long product life –5 years warranty on solar panels & LED light with rated for 60,000 hours of maintenance free operation, sealed deep cycle (AGM gel type) maintenance free battery.
Green Light Source - 40-70% less power consumption than other light sources. LED lights emit no light pollution, provides bright white light which improves color recognition and improves night visibility from 400%-1000% over other light sources.
Flexible configuration - solar lights can be easily configured to suite your requirements with solar module, wind module and battery banks
Advanced control unit - Solar light controller provides easy configuration, automatic operations and advanced work modes.
3-5 days backup power – for rainy, stormy and cloudy days
Complete stand-along & no bill to pay –system is designed completely off-the-grid, there will never be an electricity bill to pay
HYE Solar Street Light Systems Include:
● Photovoltaic (PV) module – monocrystalline/polycrystalline
● Light source – ultra bright LED light 20/30/40/60/80/90/120W
● Controller – 5/10/15A automatic light controller, automatic operation, multi work mode, over charge protection
● Energy Storage – sealed maintenance free AGM gel deep cycled battery● Docks and Piers
● Battery Box – water proof design battery boxCamp sites
Light Pole – 6/8/10/12/16m light pole with 30/50m/s wind resistance
Lamp Bracket - available in both single and dual fixture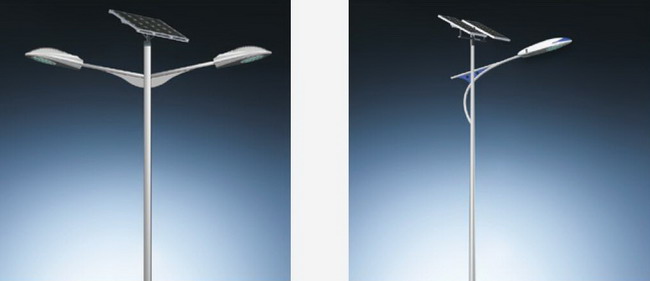 System Solution Detail

Remarks
Above standard solution designed base on effective sunshine 5 hours per day
Above standard solution designed for battery backup for 3 consecutive rainy and cloudy days
Above standard solution designed base for 10 lighting hours, Lighting hours can be customized base on specific requirement and project site solar radiation level
Light pole and light source shape can be custom designed to fit better into landscape
Optional split night lighting & Passive Infrared (PIR)
Above standard solutions for your reference only, for each specific project HYE will design the complete system according to project location solar resource condition and specific requirement about ground average LUX, illumination distribution, light color temperature etc. A complete system proposal will be provided by HYE with detailed data and graphic diagrams included.