Wind Solar Hybrid Off-grid Sys
---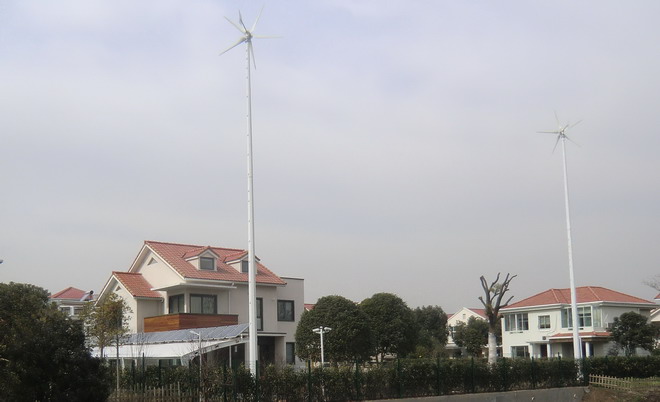 A typical stand-alone system consists of a small wind turbine and solar panels to generate electricity connected to a charge controller which controls the pace at which batteries are recharged which is connected the battery bank. You will then need an off-grid inverter to convert the DC electricity stored in the battery bank to AC electricity which is more commonly used in home & business appliances.
Separately, wind and solar energy are effective ways to power a home or a business but can be limited due to lack of sun or a sudden shift in wind velocity. Using a combination of these will provides a stable, higher energy output to power your home or business. Wind solar hybrid power system includes a solar panel array and one or more wind turbines, and they create a more constant flow of power than either single source provides.
Wind & Solar hybrid power system provides a much more reliable power supply for 24 x 7 powers for off-grid applications. Off-grid systems can provide power anywhere; there is no shortage of possibilities or limits. Our packaged systems are ideally suited to remote homes, schools and other off-grid applications. They can also be retrofitted to existing diesel-generator systems to save on high fuel costs and minimize noise.
HY Energy offers standard hybrid systems solution with all necessary components included such as solar panel, wind turbine, deep cycle battery, controller and inverter, mounting towers etc., each and every component have been well developed and tested for years in the fields and offer the highest levels of reliability, efficiency and ease of use, and we can also tailor a system to suit should you have a smaller or larger power requirement.
Major Application:
● Living off the grid, from large home to a small cabin
● Off-grid fishing or hunting cabins
● Remote security monitoring and communication facilities
● Remote mining and drilling operations
● RV or marine vessels
● Farms, ranches & vineyards
● Remote holiday hotel, military base camp
● Relief team or scientific research team working off the grid
Benefit of Wind solar hybrid off-grid power system
Minimize Your Impact - Capturing the energy that is freely available in the wind and sun, you will be able reduce your impact on the environment - contributing to the health of our planet.
Take Control - Producing your own energy allows you to choose a clean, renewable energy source, allowing you to go green on your own terms.
Live off the grid - Our wind/solar hybrid solutions allow you to live off the grid and overcome unreliable energy sources. Keep the power on.
Save Money - With ever-rising electricity prices, it will be a relief to take charge and lower your utility bills.
HYE Wind Solar Hybrid Off-grid Power Systems Include:
● HY series small wind turbine 400W/600W/1500W/3000W
● High Quality Solar Modules with 25 Year Warranty
● Wind solar hybrid charge controller and MPPT & charging boost function
● 600W - 6000W Pure Sine Wave Inverter 110V/220V/230V/240V
● High Quality Deep Cycle Battery (100/150/200AH2/4/6/12V)
● PV Mounting Frames (Roof top, ground mount, pole mount etc.)
● Wind turbine towers (guyed tower, standing-free tower, hydraulic tower etc.)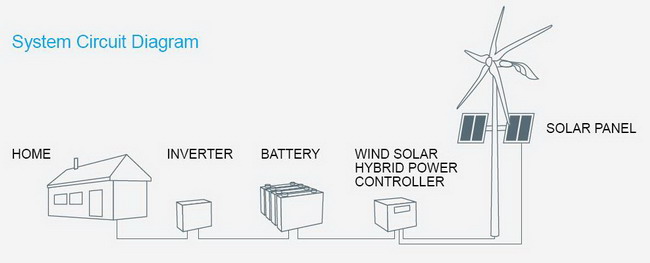 Standard System Solutions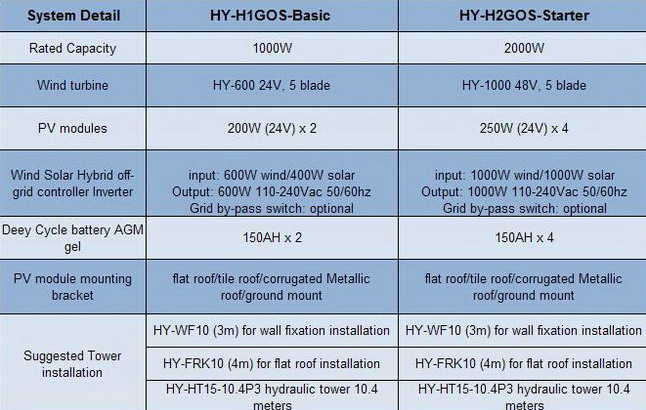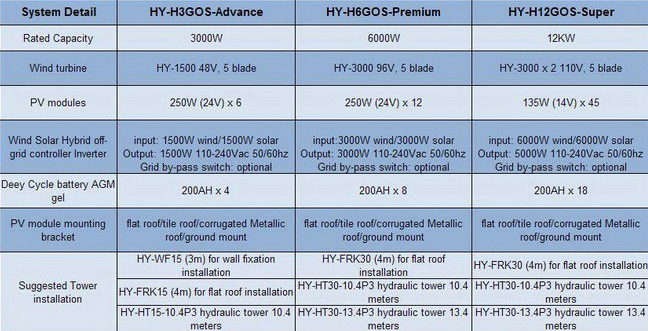 Estimated System Daily Power Production (KWH/Day)

Remarks: Above system yearly power production is calculated base on annual average wind speed at 10 meter high free-standing tower installation under standard air density 1.225KG/m³, actual system production may varies with installation site air density and surrounding obstacle etc. You may input your target installation site location at following website to check more accurate wind speed data. (
www.gaisma.com/en
)